Busy Fall for Vermilion Advantage: New Members, New Kids Program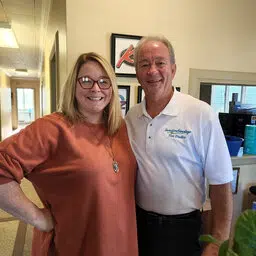 Fall is shaping up to be a busy one for Vermilion Advantage. As CEO Tim Dudley and Chamber of Commerce Director Nicole Van Hyfte recently told Tommy B on D102's The Big Show, all through September will be a membership drive. Dudley says that since coming on board in calendar year 2021, they have added 100 new members and would like more to join the team.
AUDIO: One of the huge benefits of being a Vermilion Advantage member is that we can network and bring people together. And if you have a product or any other type of initiative that you want to spread, we can help you spread it. We have all the means to achieve this.
Van Hyfte agreed, saying anyone from individuals to different types of businesses can join.
AUDIO: We can go from a simple pensioner to a person; up to non-profit, manufacturer, educator, municipal, health care…..any business or individual who wishes to become a member; we have a membership level for you. And so what we do is we just ask people who are already members to recommend other people and other businesses to join.
And yes, there are prizes for the top three who sponsor the most new members.
In October, which happens to be manufacturing month, Vermilion Advantage will launch its Skypack program. As Dudley explains, the idea will be to get into schools, starting with junior high, and letting students know that there are good jobs waiting for them right here in Vermilion County. . And then, as the students get older, they will know who these companies are.
AUDIO: We have great kids here. We have great young people. We educate them, we send them to university here, and then they leave. You know, we're losing all our good talent. And we think that's a way of letting them know what we have here; and they can say, "Wow, I can stay here and be successful." And that's what we want.
Van Hyfte says students need to learn more about local makers whose work they may have seen elsewhere, or even on TV or in movies. Two examples would be Danville Metal Stamping and Watchfire Signs.
AUDIO: There are several jobs that exist once a student has graduated from high school; not only can they be in a safe place financially, but many of these employers will help you further your education and pay you to go to college.
And it can also pay off WHILE you're in high school.
AUDIO: They can do express college, they can work with DACC to get the training they need to have a great job when they graduate from high school.
Dudley and Van Hyfte both say that if all goes well, the Skypack program could even be present in kindergarten classrooms one day, educating students over the years about opportunities close to home.
For membership or Skypack questions, call Vermilion Advantage at 217-442-6202; or by e-mail at [email protected] advantage.com.