Grateful for Charleston Southern, a program based on faith in God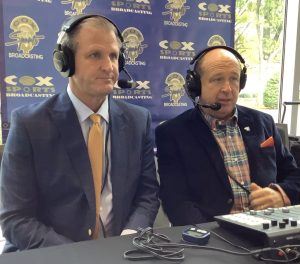 We are celebrating Thanksgiving this week.
Of course, we have to be grateful every day, but especially during this holiday season. One of the things to be thankful for is having men like Barclay Radebaugh, the Charleston Southern head basketball coach.
Charleston Southern is a Baptist university located in Charleston, SC. Barclay Radebaugh is the oldest coach in the Big South Conference. He started his 18e season as Buccaneers coach and over those years he had many ups and downs. But one thing that remained constant was Radebaugh's strong faith in God and the priority given to God in all things.
"Every day is a blessing!" he said. "It's been a long journey. Coaching is an intense and fast-paced profession, but Jesus is my rock! He's been there every step of the way. There's never a win that he'll love me more or a loss that he will love me less.
"My faith is in Jesus and my love and passion is in coaching, which is why I've been here for so long. I've enjoyed every minute here at CSU and can't imagine spending 18 years anywhere else.
During his coaching tenure at Charleston Southern, he ranked seventh all-time in Big South history in total wins (165) and ninth in league wins (84). He is twice Big South Coach of the Year. In 2012, he led CSU to its most wins (19) and Deep South wins (11) since 1994-95.
Barclay accepted Jesus as his Lord and personal savior at the age of 13 during a crusade by Albert Long. Albert Long was the last four-sport scholar at the University of North Carolina and a world-renowned Christian lecturer.
Charleston Southern is a faith-based university that allows Radebaugh to share his personal faith.
"CSU has been a perfect fit for me," Radebaugh said. "It allowed me to train the big game that I am beyond passionate about. During those two hours of practice every day, I feel the presence of God. Charleston Southern gave me the chance to combine the two things.
Radebaugh shared that his wife, Hope, and her faith had a big impact on his life.
"I trust God in all things," he said. "God will use all things for his glory. As a believer, He will use ups and downs. He will use the positives and negatives to draw you into a deeper relationship with himself.
Having coached in middle school and high school for 37 years, I can relate to the pressures and parts of society that are not compatible with faith. When asked how he incorporates faith into his program, Radebaugh said, "As coaches, when we work with our young men, we don't care about mistakes. We just want their hearts to grow in their faith in God. We focus on praying for God to change their hearts.
His message to young Christian coaches is to "let your actions match your words." He said he wasted his first three years as a coach because his words didn't match his actions.
With the world as it is today, I asked Radebaugh if today's players are receptive to his faith-based program.
"That's a great question!" he admitted. "Players are receptive to forgiveness, honesty, integrity, good kinds of discipline, hard work and consistency. If they see this, their hearts will open to other things you want Not all are receptive, but they are receptive to the good stuff of coaching.
As we celebrate Thanksgiving, we can be thankful that there are still coaches like Barclay Radebaugh who aren't afraid to put God first and build their basketball programs on a strong Christian faith.