Human Initiative launches the qurban program for 2022 – Inforial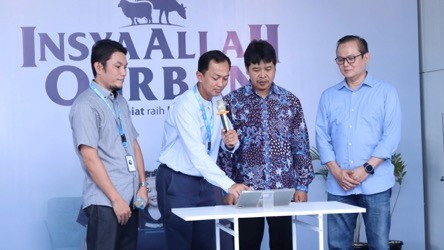 Inforial (The Jakarta Post)
Jakarta ●
Fri, June 3, 2022

2022-06-03
13:15
0
e16ff64e7ecc29b417414912231b9378
4
Tooltip

Free

The Jakarta-based NGO Human Initiative has launched its 2022 qurban (sacrificial animal), themed "InsyaAllah Qurban" with the slogan "Kuatkan Niat Raih Kebaikan" (reinforcing the intention to do good).
Launched at an official event on Thursday, this year's program targets 25,500 donors nationwide and 350,000 recipients globally for Idul Adha (Day of Sacrifice), which falls in early July.
At a press conference after the launch event, Human Initiative President Tomy Indrajati said the annual report qurban was the organization's second program after its Ramadan program. He highlighted the charitable nature of Indonesians by helping those less fortunate.
"The qurban program has a broader reach, as public support is usually greater. This year, we have set ourselves a target of 25,500 benefactors, of whom 85% qurban to distribute throughout Indonesia and the rest to other countries," said Tomy. He added that Human Initiative's international outreach efforts are currently focused on African countries.
In Indonesia, the accent of the qurban Distribution is taking place in eastern regions including Nusa Tenggara, Maluku and Papua, with distribution points also to be set up in Sumatra and Java. At the same time, the organization aims to reduce supply hoarding in cities to ensure access for people in rural areas.
While COVID-19 related restrictions have been gradually eased, this year's Idul Adha follows reported outbreaks of Foot and Mouth Disease (FMD) among the country's livestock. As such, Tomy said the Human Initiative was working closely with the government to ensure animals were safe to eat, "just like we did during the pandemic, [when] we have worked intensely with the government to ensure that every step of the process is safe by applying strict health protocols".
"It's also a challenge for us to be safer and more precise than last year," he added.
At the same event, Human Initiative also launched a dedicated website, www.solusipeduli.org/qurban, to provide convenience and ease to benefactors. It offers several options for benefactors to donate to the program, including different types of cows with a range of distribution routes.
"We hope that more families will be supported by the InsyaAllah Qurban program, especially our brothers and sisters in rural and outermost areas. Inshallahthey can enjoy qurban this year through the program.
"Local farmers will also directly benefit from the [program]said Miftahul Surur, the head of Human Initiative's qurban project.
"Reflecting our slogan, even though we have had to deal with the COVID-19 pandemic, our employees always have the spirit of sharing through qurbanwhich shows that Indonesians have a strong social sense," Tomy pointed out.