Ladybug Glass Hoops Launches Sustainable Glass Making Program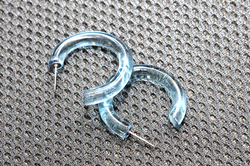 HIGHLAND PARK, NJ (PRWEB)
August 03, 2022
Ladybug Glass earrings launched its website in early 2022. The vision was to create an elegant glass jewelry business and support others in the process. Ladybug achieves this by using sustainable resources for all of its products to preserve the world for the future.
Ladybug Glass designs and manufactures glass hoops that are beautiful and can be worn with any outfit. They make a perfect gift for any jewelry lover. Customers who buy from Ladybug will feel good knowing that they are supporting a family owned and operated business with eco-friendly values.
What sets Ladybug Glass Earrings apart from other glass jewelry is the company's commitment to a sustainable lifestyle. All of their materials are sourced from small, eco-friendly companies in the United States.
Everything Ladybug does is done leaving the smallest carbon footprint and reducing its environmental impact as much as possible. This includes materials for earrings such as glass, metal parts, earring clasps and gemstones. Metals used by Ladybug are hypoallergenic and include sterling silver, titanium, and gold. In addition to this listing, Ladybug only uses recycled materials for its packaging and shipping.
The glass hoop earrings are made in a small glass factory located in Highland Park, New Jersey. The glass is cut, heated to melting point, shaped, annealed in the oven, then finally assembled into beautiful glass hoops. Craft glassmaking is a delicate process that requires years of glassblowing training.
Since Ladybug is a small private company, this gives them the ability to have full control over all the products they make. This makes it easy to design custom jewelry with custom colors and patterns. Ladybug is also able to make rapid changes to its supply chain and manufacturing processes without any company intervention.
The owners of the Ladybug Glass Hoop Earrings are Sim and Nechama Woitovich. Sim is the glass blower and Nechama is the jewelry designer. The husband-wife team is committed to providing high quality glass hoop earrings and supporting other small businesses.
Glass hoop earrings come in a wide variety of colors and designs to match any outfit. They're perfect for any occasion, whether it's a casual day out or a night out on the town. Either way, ladybug glass hoop earrings add a special touch of elegance.
It's a breath of fresh air these days to see small companies making products right here in the United States. Ladybug Glass Hoop Earrings are one of those businesses and people need to support these types of businesses for the US economy to thrive.
Visit glasshoopearings.com today for more information.
Share the article on social networks or by e-mail: