NYC launches advanced weapons detection pilot program – The Ticker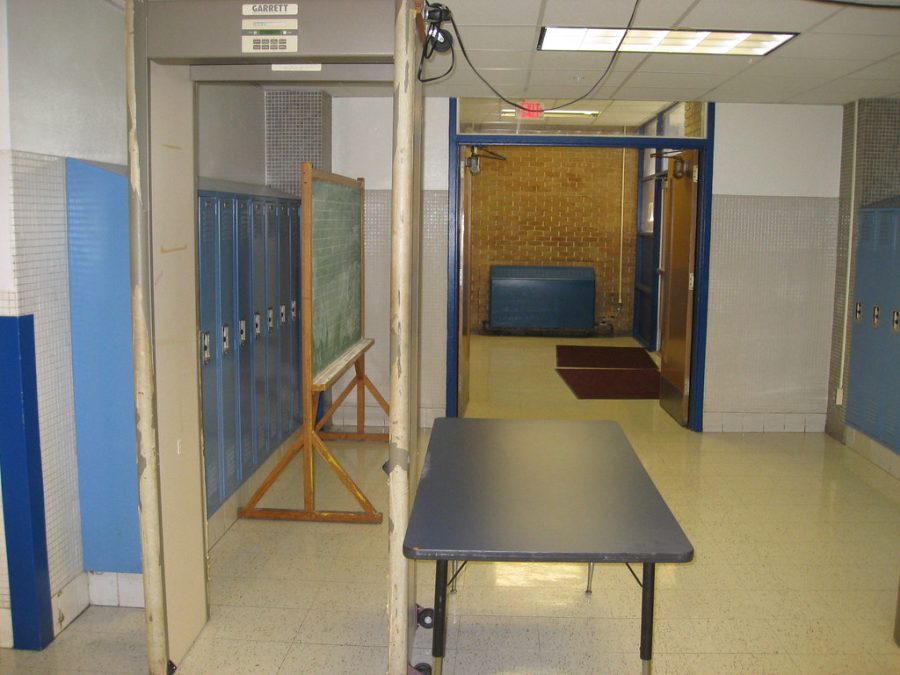 A new weapons detection system is currently being tested at several New York City sites as part of Mayor Eric Adams' approach to public safety and the fight against illegal weapons.
Evolv Technology, a security technology company, has created a fast, contactless security check experience. This new technology scans and screens people on monitors as they enter a location, triggering visual alarms when weapons are detected.
These sensors are used in places such as Lincoln Center for the Performing Arts, Citi Field, Metropolitan Museum of Art in New York, Museum of Modern Art, American Museum of Natural History, Hudson Yards, NewYork-Presbyterian Jacobi Hospital and Medical Center.
Adams said the new pilot program will detect weapons and firearms in a "humane" way.
"We want to make sure we're testing it properly, and we're currently testing it," he said at a press conference last month. "And we're going to put it in schools so we can better identify weapons."
Many people feel uncomfortable having to unpack their belongings and being searched by security. Therefore, one can imagine how this can create a prison environment in schools.
Creating less invasive monitoring methods is necessary to make students feel comfortable and potentially less discriminated against.
Anil Chitkara started Evolv after being personally affected by two traumatic attacks, one in which he lost a friend during the 9/11 incident and another when he and his family were near the bombs that exploded during the Boston Marathon.
"There has been a lot of investment in aviation security and airport security technology, but not enough in all the other places we are," Chitkara told NY1.
The pilot program for the weapons detection system began in response to a recent outbreak of gun violence in New York.
In January this year, a man walked into Jacobi Medical Center and shot a patient in the arm. In July 2021, another man managed to enter the psychiatric emergency triage room at Morris Park Medical Center with a handgun and a knife.
These events led to the installation of metal detectors and increased police presence in many health facilities such as the Jacobi Medical Center.
As good as the new technology may seem, critics say there isn't enough scientific research to prove the weapon detection system's effectiveness.
Additionally, technologies that incorporate artificial intelligence and visual location analytics are typically plagued with racial bias, according to Daniel Schwarz, privacy and technology strategist for the New York Civil Liberties Union.
"It might be a little less obvious than metal detectors and people will move around there faster," Schwarz told the Gotham Gazette. "But the technology is no less invasive," he said.
Critics also argue that there is a lack of transparency from the NYPD regarding the capabilities of the technology. Many fear that the invasive nature of the detection system could lead to security breaches.
An example of this would be the ability to capture nude images of people it scans, according to Albert Fox Cahn, founder and executive director of the Surveillance Technology Oversight Project.
Adams faces similar claims former mayor Bill de Blasio faced when he wanted to beef up law enforcement and metal detectors to tackle gun violence, with critics saying such choices criminalize students of color and would not address the root causes of the violent attacks.
A 2016 ProPublica and WNYC survey found that black and Hispanic high school students were three times more likely to go through a metal detector than white students.
Nonetheless, Adams is advocating for the rapid implementation of this technology, especially in public schools, which makes him feel like he is encouraging and defending the NYPD against allegations of transparency avoidance.
The hope, however, is that Adams addresses these growing concerns about the technology during the pilot period before implementing it on a large scale.