Olympia Postpones Action on Creating City-Owned Core Services Program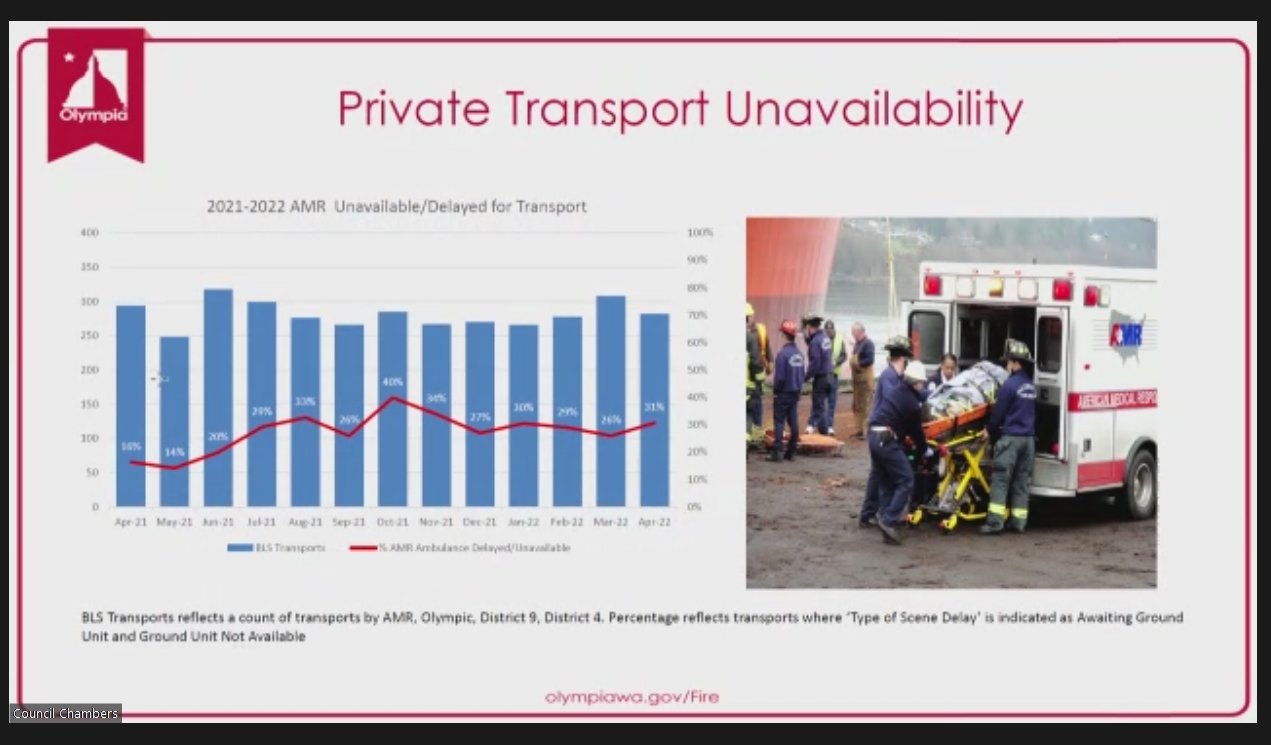 By Lorilyn C. Lirio
Olympia City Council has temporarily postponed action on a city-commissioned study that recommended the creation of its Basic Life Services (BLS) program.
In his presentation at the City Council meeting held on Tuesday May 24, Olympia Deputy Fire Chief Michael Buchanan said there was a decrease in the availability of private ambulances to respond to medical services in emergency.
Citing analysis by the FCS Group, a financial management consultancy, Buchanan said the BLS's current level of service is deficient. It is measured based on the delay or unavailability of BLS units.
The Olympia Fire Department (OFD) has contracted with FCS Group to assess the feasibility of establishing a city-owned and operated BLS transportation program.
FCS noted that in 2021 there were approximately 3,400 ambulance transports. During that same year, the city experienced a decrease in the availability of private ambulance services.
OFD provided data to FCS, including a graph reflecting the percentage of time American Medical Response (AMR) was unavailable or delayed transporting patients to local hospitals or emergency rooms decreased from 12% at the start of 2021 to 37% at the end of the same year.
AMR is Olympia's primary BLS provider.
Buchanan said a call to 911 for a medical emergency requires either BLS transport or an advanced life support system (ALS).
Vehicles and personnel from Thurston County Medic One provide transport for ALS, while fire departments use private contractors for BLS.
Buchanan said when a BLS ambulance is not available, they must request ambulances away.
"If the ambulance is not available, we ask for Olympic. If Olympic (Ambulance) is not available, we ask for other fire districts for transport units. If available, he must travel extra distance," he said.
Olympic Ambulance is another private BLS ambulance provider in Thurston County.
"What happens is that it decreases response times and impacts the entire system. Patients have to wait longer for transportation that affects patient care," Buchanan said.
"This has resulted in either an increase in the time spent at the scene by city emergency response personnel awaiting the arrival of BLS units, or the need to use the city's emergency response vehicles. the city to transport patients to the hospital." Buchanan added. "In either case, this means that the city's emergency response units are unavailable to respond to other emergencies while they wait for an ambulance to arrive or the unit to emergency response transports a patient to the local hospital or emergency room."
Buchanan also cited five-year data from the OFD, where the response time for Olympia's call volume is getting longer and longer.
"There's a reason for that – more incidents, more simultaneous calls," the deputy team leader pointed out. "Waiting for a private ambulance company to be able to complete the transport in a timely manner may be part of this lengthening of our response time."
Buchanan said private ambulance services were not keeping up with demand.
He added that the decrease in the availability of ambulances leads to increased response times to concurrent emergencies and less care for patients while they wait to be transported.
FCS Analysis
On May 18, FCS Group sent a two-page memorandum to Olympia Fire Chief Mark John showing the feasibility analysis.
Based on the FCS Group's 10-year forecast and financial analysis, he said the city could create and operate a BLS program to address current BLS service level deficiencies.
"While the city can operate a one- or two-unit BLS program, a two-unit program is optimal. This would allow the city to respond to anticipated service calls from the BLS, improve services to the community, and deploy its emergency response resources more effectively and efficiently," its report states.
City Manager Jay Burney expressed concern over the lack of a private ambulance service to run BLS support on an ongoing basis, but asked the City Council to delay action until it had sorted out the issues that have been raised.
"I would like to take a cautious approach to ensure that I fully understand the concerns that are being raised, and that when we bring this to you, we take all of this into account," Burney said.
Olympia's assistant solicitor, Annaliese Harksen, explained to council members the process to follow to move forward with the creation of a public utility ambulance service.
Under Washington's revised code 35.21.766, the city council may establish an ambulance service system if it determines that an existing private ambulance service does not adequately serve the city or its substantial portion.
According to Harksen, the process would involve releasing the FCS analysis, approving a resolution that would direct the city manager to issue a 60-day notice to private ambulance services to make improvements to meet generally accepted medical standards.
After the 60-day notice, Harksen said the Olympia Fire Department and FCS Group would report back to city council to signal further study and determine whether private ambulance services are meeting reasonable service levels.
Delaying action, Mayor Cheryl Selby said they needed a good amount of awareness. "We have a responsibility to our community as a whole to make sure everyone's needs are met and what that picture looks like."
Council member Lisa Parshley said she was concerned about the data and wanted to research an option. "Even though this is a public service ambulance, helping to reduce the load across the county, it could be a positive for everyone. I want everyone to keep an open mind.