RSNF's Al-Jubail crew complete training program in Spain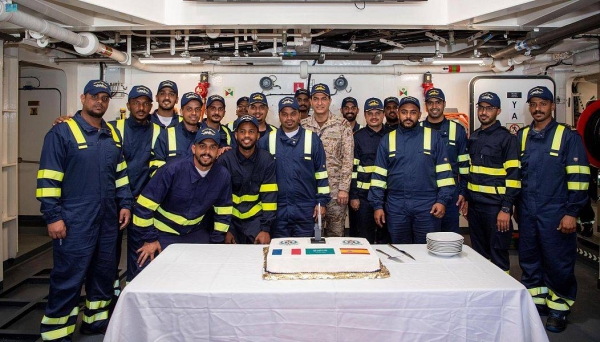 MADRID— The Royal Saudi Naval Forces (RSNF) concluded on Saturday in San Fernando, Spain, the training program for the crew of Her Majesty's ship "Al-Jubail", the first combat ship of the "Sarawat" project, which includes crafting and building five warships with advanced capabilities to tackle various combat missions with high efficiency.
The training program consisted of three main phases; the first phase started in the UK and lasted 46 weeks; learn the English language, before moving to Spain.
The second phase, hosted by Spain, saw basic and advanced courses offered by the Spanish Navy and the University of Cadiz in addition to operation, maintenance and ship adaptation courses with the Spanish Navy and Navantia, the making of the Sarawat Ships project.
The last phase focused on practical exercises at sea for the crew of "Al-Jubail". The conclusion of the training program, which took place in the presence of the commander of the RSNF, Lieutenant General Fahd Bin Abdullah Al-Ghufaili, resulted in the implementation of His Majesty's ship "Al-Jubail" in the area of ​​Spanish naval operations in the Gulf of Cadiz, firing exercise with type missiles (MICA) of the third version (block 3), which serves to counter air attacks and identify targets in a self-guided way (shoot and forget ).
The Commander of the RSNF expressed his pride in the crew of His Majesty's Ship "Al-Jubail", for their efficiency and competence in the theoretical and practical training and qualification stages, as well as their great ability to fully exploit the ship's advanced systems, which resulted in the successful launch of the missile (MICA) and the direct hit and destruction of its target.
General Al-Ghufaili said the ship's crew had completed all stages of training and the ship was in the process of being ready to sail to Saudi Arabia to be the first ship to join the project's naval fleet. "Sarawat", which contributes to raising the level of readiness of the Royal Saudi Naval Forces and to strengthening maritime security in the region and to protecting the vital and strategic interests of the Kingdom.
The Al-Jubail ship (Corvette Avanti 2200) is the first ship of the Sarawat project, which was launched four months ago, and is the last of its type in the world, with capabilities to deal with air, surface or underground.
The "Sarawat" project is part of the Kingdom's Vision 2030 programs; locate 50% of military industries. — SPA